The BAT-6V series batteries are Intrinsically Safe, rechargeable sealed lead acid batteries. Absorbent Glass Mat (AGM) technology for superior performance. Valve regulated, spill proof construction allows safe operation in any position.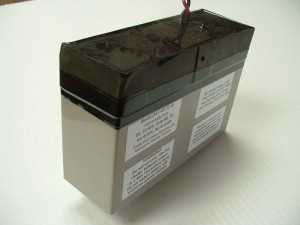 The integrated current limit circuit will allow a minimum of 2.5 Amps to flow from the battery. If the load increases past that point, the current will be limited to an average current of 200mA.
Protection devices clamp the charge voltage at 12 VDC. The internal fuse will blow if charge current reaches 5 Amps. This fuse is not repairable and the battery must be discarded.
Specification:
| | |
| --- | --- |
| Voltage | 6 VDC |
| Capacity: | 2.5 AHr to 12 AHr |
| Max Charge Voltage: | 8 VDC |
| Max Discharge rate: | 2.5 Amp |
| Hazardous Location Rating | Exib II B, T3 (Vo=8.01V, Ao=4.425A) |
Warnings:
Do not service.
Do not charge batteries unless in a Non Hazardous Area.
Do not replace battery with explosive gasses present
This unit is a component piece of equipment and requires to be housed in an approved enclosure and is subject to investigation after the final assembly is completed.
| | |
| --- | --- |
| Model Numbers | Capacity |
| BAT-6V-2.5-IS | 2.5 Amp Hour |
| BAT-6V-2.9-IS | 2.9 Amp Hour |
| BAT-6V-3.5-IS | 3.5 Amp Hour |
| BAT-6V-4.5-IS | 4.5 Amp Hour |
| BAT-6V-5.0-IS | 5.0 Amp Hour |
| BAT-6V-6.5-IS | 6.5 Amp Hour |
| BAT-6V-7.0-IS | 7.0 Amp Hour |
| BAT-6V-8.0-IS | 8.0 Amp Hour |
| BAT-6V-9.0-IS | 9.0 Amp Hour |
| BAT-6V-12-IS | 12.0 Amp Hour |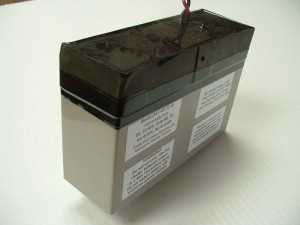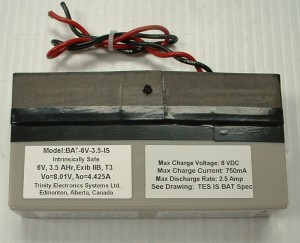 Dimensions
IS Battery dimensions – 3dot5 AHr drawing