Trinity Electronics Systems Ltd. has been designing and manufacturing custom electronics for over 35 years. We design equipment to our customer's specification and we have our own products as well. In addition to designing products, we also handle the modifications, upgrades, even the warranties.
We carefully monitor the electronics industry and emerging technologies to consistently provide the best products possible.
Our History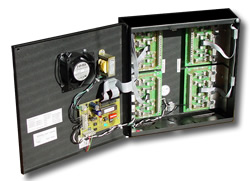 Trinity Electronics Systems Ltd. was incorporated in 1984 with a focus on the design and manufacture of reliable, custom electronic products for the OEM and industrial markets. In the fall of 1995, Trinity purchased the technology and assets of ADEC Systems Inc. of Edmonton. ADEC specialized in manufacturing equipment for the electric utilities. These products include: Power System Monitors, Fault Recorders, Voltage and Current Transducers, Stabilizers, and DC to AC inverters.
Our Customers
Because of our capacity for nimble problem-solving, Trinity's customer base is very diverse. A sampling of the industry segments we serve includes manufacturing, petrochemical, oilfield services, mining, power generation and transmission, professional audio, and law enforcement.
Click here for a partial listing of our clients.
Our Facilities
Our design facilities include CAD and PCB design work stations, microprocessor assemblers and in-circuit emulators, an environmental chamber, and a well equipped design and testing lab.
On the production side we have PCB assembly equipment, metal fabrication equipment, CNC milling equipment, microscopes, a pick and place machine, a wave soldering machine, and various pneumatic wire cutters, strippers and crimpers.
Click here to learn more about our custom electronics design and manufacturing services.
---
Trinity Electronics has undertaken many custom design and build projects for our company. Specifically, they have provided leading-edge audio processing and control systems to meet our needs. Consistently, TES demonstrates an understanding of the issues we face and are consequently able to provide a cost effective design and to build a reliable product. We have hundreds of pieces of TES-built equipment, some up to 10 years old, out there working everyday without any problems. I can't think of a better recommendation than that.

Clive Alcock, Director, Allstar Show Industries Inc