The MP3-445 is a highly versatile, highly configurable MP3 player and automation interface with an onboard audio amplifier and extensive electrical input and output options. It can be everything from a doorbell, to the control center for a complex public multimedia display. It operates independently or using the built in serial interface, it can control other devices or be controlled by other devices, including computers.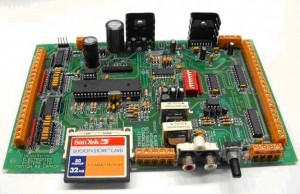 Features
Solid-state Compact Flash MP3 Player supporting MPEG2 Layer 3 Stereo decoding at all MPEG sampling frequencies and bit rates up to 256 kb/s including variable bit rate (VBR).
Operates in two stand alone modes (simple & enhanced), and a peripheral mode (interfaced to a remote computer or other device).
Line-level unbalanced/balanced-isolated stereo outputs.
On-board power amplifier capable of 2 x 25W stereo outputs with output AC/DC short-circuit protection.
16 switch inputs with transient protection.
2 opto-isolated inputs.
16 outputs with 250mA continuous or 1.5A pulsed current per output.
Supports Compact Flash Cards type I and II with capacities up to 4GB.
Standard serial interface (RS-232) running at 9600 baud.
DIP Switch selectable level/edge triggered inputs and audio level adjustments.
Specifications
General
| | |
| --- | --- |
| Input power | 9VAC-12VAC @1A or 12VDC-16VDC @ 1A |
| Current consumption | 130mA typical during MP3 playback (without power amplifier), 80mA when idle |
| Storage medium | FAT16 formatted Compact Flash (CF) Cards Type I and II |
| Storage capacity | 4GB |
I/O
| | |
| --- | --- |
| Switch inputs | Active low with transient protection. DIP Switch selectable triggering |
| Opto-isolator inputs | 3V to 12V DC |
| Outputs | 250mA continuous and 1.5A pulsed current per output |
Audio
Decoder
STA013 single chip MPEG2 Layer 3 decoder supporting STEREO and
MONO channels and all MPEG 1 & 2 sampling frequencies and bit rates
Up to 256 kb/s including variable bit rate (VBR)
Frequency response
20Hz to 20 kHz
Distortion
THD < 0.3% 2x10W/4ohm @ 14.4V, 1 kHz
THD < 10% 2x25W/4ohm @ 14.4V, 1kHz
Mechanical
| | |
| --- | --- |
| Dimensions | 203mm (L) x 137mm (W). CF card exceeds longer edge by 12mm |
| Weight | 0.27 kg |
| Mounting | 4 holes dia 3.35mm spaced 190mm horizontally and 123mm vertically |
Operating conditions
| | |
| --- | --- |
| Operating Temperature | 0°C to 60°C |
| Storage Temperature | -20°C to 70°C |
| Humidity | 5% to 80% RH non-condensing |
Functions
 Simple Stand-alone Mode
Inputs
14 edge-triggered or 7 level-triggered, non-triggerable switch inputs.
Opto-isolated inputs 1 and 2 mapped to switch inputs IN09 and IN10.
Either rising or falling edge transitions recognised based on DIP switch settings. See DIP Switch Settings.
Outputs
14 high-current outputs. One-to-one correspondence between outputs and inputs.
Playback
14 MP3 tracks. See MP3 Track Numbering. One-to-one correspondence between MP3 tracks and inputs.
Volume adjustment
Switch inputs IN15 and IN16. Volume adjustment is done in real time and final value is written to EEPROM after track ends.
Enhanced Stand-alone & Peripheral mode
| | |
| --- | --- |
| I/O | 16 unique inputs and outputs |
| Playback | 255 MP3 tracks. See MP3 Track Numbering. |
| Serial I/F | 4-pin header; 0-5V TTL levels; 9600 baud |
| Commands | Read inputs, change outputs, play/stop track, send configuration file/entry, change volume. See Peripheral Mode Commands & Responses |
| Configuration File | 255 rules supporting 16 Input Edges/Levels, 16 Outputs, 16 Timers, 16 Variables, multiple IF-THEN constructs. See MP3 Configuration File |
| Volume adjustment | Software controlled. 256 levels in steps of 1.5dB |
Click here for Application Notes.
Click here for Wiring Information.
Accessories
MP3 CONTROLLER Board MPC-494
The MPC-494 is a small 50mm x 18mm board which piggybacks on to the serial port of the MP3-445 Compact Flash MP3 board. It controls I/O and MP3 playback based on rules in the user changeable configuration file stored in the Compact Flash.
QUAD OPTO-ISOLATOR Board OPT-466
The OPT-466 Opto-isolator board connects to any 4 of the 16 inputs of the MP3-445 to convert them into 4 opto-isolated inputs.
Click here for detailed specs on the OPT-466
DUAL QUAD RELAY Board RLY-312
RLY-312 Relay Board connects to 4 of the 16 outputs of the MP3-445 to convert them into 4 DPDT relay outputs, each capable of switching loads of 60W/125VA.
Click here for detailed specs on the RLY-312.