The Universal Transducer Interface (UTI) is a sensor-to-time signal converter, based on a self-calibrating period-modulated oscillator. Sensing elements can be directly connected to the UTI without the need for extra electronics. The output is digital and can communicate with any type of micro-controller. The UTI can operate in 16 different modes. To obtain accurate results in any of these modes, a reference element of the same kind as the sensor is required.
The UTI provides interfacing for all kind of resistive and capacitive sensors.
For convenient design-in, there is an evaluation board available. The UTI evaluation board and free down-loadable software ensure that custom applications will be up and running in no time.
More info: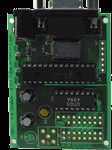 We have developed a few modules that make designer's lives easier and show off the great features of our sensors. Some of these boards are being used in measurement and production environments due to their ease of installation and the high quality of the outputs.
For the temperature sensors we offer the SMTAS04 and SMTAS08 boards. These boards can be connected to any PC using a USB cable – no extra power supply needed!
These boards have high accuracy and great resolution (0.01C).
We have also developed a new UTI evaluation board; the UTI Evaluation Kit USB. This board is a real "plug and play" system. Very accurate capacitance and resistance values can be measured. Porting the very low output voltages of infrared sensors to other equipment is very challenging so we have designed an IIC interface module and USB module that make this very easy.
Key Features
Easy connect to PC via USB
For 4 or 8 SMT172 sensors
From SMT172 to I2C
From SMT172 to SMT160
For UTI applications
Infrared modules with I2C (I2C to USB available)
Free software in the design notes
More info: