Class 1, Div 2, Groups C&D, Non-Incendive
The Model 788 weekly timer was designed for hazardous locations. It has 8 outputs that can control loads as high as 3.75A each. Each of the 25 events (outputs switched on or off) can control from one to eight outputs. The timing cycle can be as long as two weeks.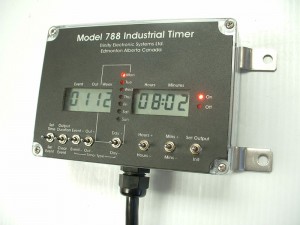 The programming is stored in flash memory so it survives a loss of power. The time keeping function is maintained with a back-up battery for up to 6 days.
Features
Hazardous Location Rating – Non-Incendive
Class 1, Div 2, Groups C&D, T3
8 DC outputs
Backup battery to keep time during power fail
25 timed events
1-8 outputs controlled for each event
Resolution – Week 1 or 2, Day of week, Hours, minutes
Specification:
Power Supply
12V to 24V DC
Average Current
27 mA in programming mode (not including loads)
1.3mA in timing mode
Current per output
3.75A sinking max
Simultaneous outputs
8 (All loads must total 10 Amps or less)
Output duration
1 to 99 mins
Maximum current draw
10 Amps DC
Display
2 x 4 digit, 7-segment LCD and LEDs
Back up battery time
6 days
Accuracy
+/- 4 minutes per year from – 40 deg C to +85 deg C
+/- 1 minute per year from 0 deg C to +40 deg C
Operating Temperature
– 40 deg C to +40 deg C
Environment
unheated but sheltered from all precipitation
Size
6.75″ Long x 4.75″ Wide x 2.25″ Deep
Options:
Output Source Board – sources current to load (standard is sinking)
Minor software customization
Overlay customization
Downloads
MODEL 788 INDUSTRIAL TIMER Spec sheet
Model 788 Timer – top view